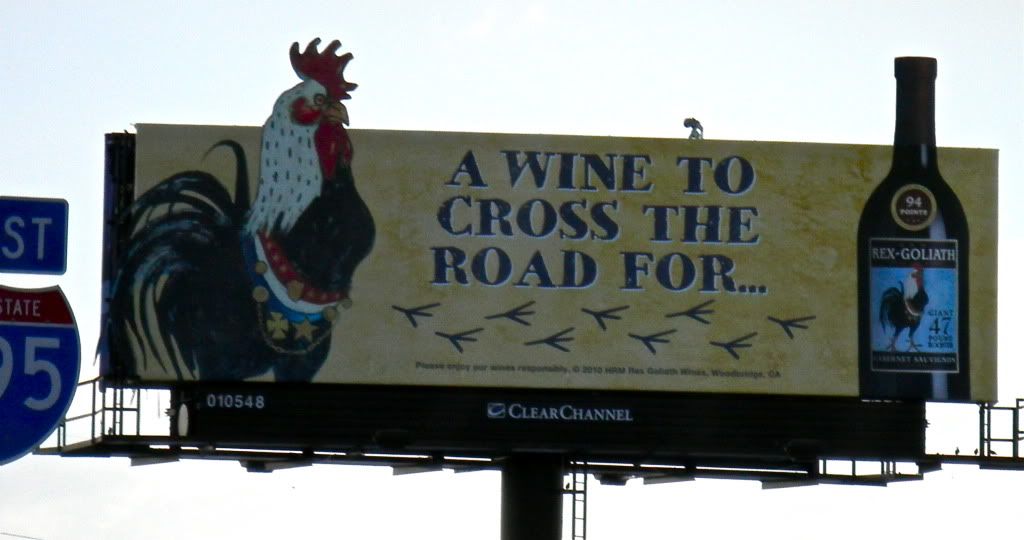 Well, summer is fast approaching, so now is the time to shake those reds, but not before we talk about a new favorite…
SO, I would like to introduce you to my favorite fusion of roosters and wine. No, unfortunately we are not talking about inebriated farm fowl (if only), but the Californian HRM (her royal majesty) Rex-Goliath.
Lets start with the rooster: this 47-pound bird was said to have toured with a Texan traveling circus around the turn of the 20th century—to put this is perspective, the average size for a rooster is between 5 to 8 pounds.
In other words, this was one fat-ass bird.
(my pet cock—i mean—rooster…and no, I'm not compensating for anything…)
It's legacy now remains with this winery, who has adopted both the roosters name, Her Royal Majesty Rex-Goliath, and also the original circus poster on its label, which can now be found on the shelves of most major markets.
HRM Rex-Goliath (often fondly referred to as simply "Rex") uses grapes from all over California for its wines, and was among the top 5 wines under $25 for two years in a row by Wine & Spirits' Annual Restaurant Poll, among other awards and recognitions.
We'll be looking at their cabernet sauvignon today. 
the Cabernet Sauvingnon grape has been around since the 17th century, at which point the crossing of Cabernet franc (a black grape that produces a pale red wine) and Sauvingnon blanc (a green grape that produces a crisp, fresh white wine), came into being.
This grape variety has been popularized due to it's thick skin, and rot resistant vines, which make the cultivation of these beauties easier than other types.
Growing Cabernet Sauvignon in California yields an interesting result due to the soil difference of the hillside vineyards and the valley floor—
In the mountains, less fertile, thin soil is what is available, which causes the grapes to be smaller and more intense in flavor.
In the fertile valley, however, the overall yield is much higher, producing two to four times more grapes, which are usually bigger in size and give a more diluted flavor.
Rex-Goliath uses a unique combination of the two, balancing the strong hillside grapes, which alone can produce a wine with an alcohol content of 14%, with the more subtle valley grapes, allowing the drinker to get the taste of the Cabernet Sauvignon, without the flaws of each extreme.
This wine is less sweet than others I have reviewed, and instead has a nice woodsy finish, due to the oak barrels that it matures in, with soft mocha and tart raspberry undertones. It still weighs in with a whopping 13.5% alcohol content, but you wouldn't know it from the taste, absent of the tell-tale alcoholic sting and residual pucker. You can find it selectively in grocery stores, or even Costco, for 8-12 bucks a pop.
Pair it with  fatty meat, like lamb or steak, or even just with a good burger. It's a meaty wine, and it deserves a meaty companion. 
It seems to be a hit or miss with most independent reviewers, but it's consistently been wining contests and medals, its most recent being a gold medal in the 2011 San Francisco Chronicle Wine Competition.
So, screw the sourpusses who think they're hot shots cause they know some wine terminology and own a computer
(oh, wait. thats me.)